Written by Stan Ingersol
From his column Past to Present

Haga clic aquí para ver esto en español
Rev. Charles Johnson found himself on the cutting edge of American history.
Born and raised in Orlando, Fla., his white employer invited him to services conducted by Rev. Warren Rogers. There, Johnson was converted. He prepared for the ministry at Nazarene Bible Institute in West Virginia, under the wise counsel of R. W. Cunningham and Clarence Bowman. In 1961, Johnson took a home mission church in Meridian, Miss.
Fitkin Memorial Church of the Nazarene was on the Gulf Central District. Created in 1953, Gulf Central encompassed African American churches in the southeastern United States. A segregated district was a concession to America's conflicting views about racial equality, but it provided space for Black pastors to take district leadership and for women and youth to function as leaders in their district organizations. In Roger Bowman's words, it was an "instrument of evangelism," and it grew from 12 to 37 churches under the leadership of District Superintendent Warren Rogers.
Rogers' saga illustrates some of the basic problems faced by persons of color in that era. Due to segregation, Rogers often had trouble finding eating, lodging, or restroom facilities. Once, the Ku Klux Klan threatened his life when he attended a meeting held in a white church, and a group of white pastors had to escort him to safety. Black delegates and visitors to the General Assemblies of 1952, 1956, and 1960, held in Kansas City, Mo., found it impossible to book hotel rooms. Rogers rented rooms for them in private homes.
In those difficult times, Black pastors had to stand up for social justice. On Charles Johnson's first day in Meridian, a minor traffic infraction led a police officer to hold a loaded pistol to his head while a group of white men yelled, "Kill him, Lee!"[1]
Johnson proved his grit in the months and years that followed.
In 1964, he met Michael and Rita Schwerner, Jews from New York, who were helping Blacks register to vote in several Mississippi counties. Johnson also worked with James Chaney, a local man. The Klan made constant death threats, so Schwerner and Chaney often slept in a car. The Fitkin Memorial Church parking lot was one of the places they felt safe to sleep.
On Charles Johnson's first day in Meridian, a minor traffic infraction led a police officer to hold a loaded pistol to his head.
Schwerner, Chaney, and Andrew Goodman disappeared in June 1964. The FBI launched an investigation. Two months later, their bodies were located, buried in an earthen dam. Schwerner and Goodman had been shot in the head. Chaney had been tortured, mutilated, and shot multiple times. The FBI made arrests.
Johnson testified in the sensational trial that followed. Answering questions, he noted that he belonged to the NAACP and worked with Schwerner to register Black voters and had sought to improve Black access to public facilities.
When the defense counsel got up, Johnson faced a series of racist and prejudicial questions without basis in fact, asked solely to inflame the all-white jury:
"Did you ever go to Cuba?"
"Didn't you and Mr. Schwerner advocate and try to get young male negroes to sign statements agreeing to rape a white woman every week during the hot summer of 1964?"[2]
Such rank prejudice frames the context in which southern Black Nazarenes lived and ministered at the time.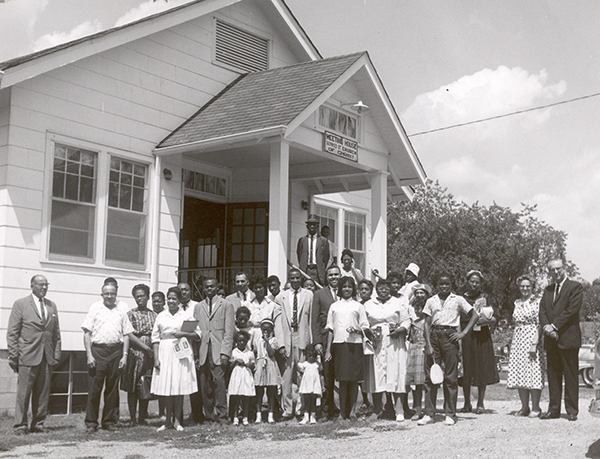 Johnson dedicated his life to pastoring in Meridian. He was pastor of Fitkin Memorial for over 60 years. Because it was a small congregation when he first took it, he was a bi-vocational pastor for the first 20 years, deriving income by working with civic groups, as a teaching assistant and then a teacher, and as a job placement counselor.
His civil rights work included leading the Meridian Action Committee and directing the Opportunities Industrialization Center. He shared a platform with Martin Luther King, Jr., several times and worked with Ralph Abernathy.
Meanwhile, his congregation prospered due to his patient pastoral leadership. It had only a handful of members when he became pastor, and grew until membership exceeded 500. Hundreds made a profession of Christian faith through his ministry, and around 30 were called to the ministry under him.[3]
The Gulf Central District ended in 1968, and Johnson later served as assistant superintendent of the Mississippi District. He chaired the Church of the Nazarene's Black Leadership Conference starting in 1984 and received numerous awards from the church and civic organizations. His life has been the subject of two biographies.[4]
Charles Johnson was 83 when he died on January 12, 2022.
He said once: "You have to rise above your adversaries and their meanness, and their ways, and be an example so that you can help someone else."
Dr. Stan Ingersol, Ph.D., is former manager of the Nazarene Archives.
[1]Johnson later learned that the officer's brother was a high official in the local Klan.
[2]"Testimony of Charles Johnson," https://famous-trials.com/mississippi-burningtrial/1981-johnsontestimony
[3]Laura Hyche, "He was a Beautiful Soul," Meridian Star (Jan. 14, 2022). https://www.meridianstar.com/news/local_news/he-was-a-beautiful-soul-civil-rights-leader-rev-charles-johnson-remembered-in-meridian/article_ae567287-cc6a-58ae-a5eb-e25819f73be0.html
[4]Chet Bush, Called to the Fire (Nashville: Abingdon Press, 2013) and Wesley L. Bishop, "Charles Johnson, the Church of the Nazarene, and Civil Rights in Meridian, Mississippi," M. A. Thesis, East Carolina University, 2011. https://thescholarship.ecu.edu/handle/10342/3635